Accessories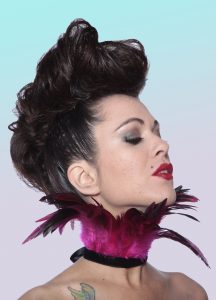 Dyed coque feather capes available in a variety of colours give a glamorous finishing touch to any outfit. All feathers have an iridescent shine to them.
The 12 – 14 inch black feather cape can also be worn as a sexy mini skirt, with black satin ribbon tied at the side.
Team up with a leather bikini top for a wild night out! Wide elastic belts with back corset lacing gives a stunning hour glass figure.
A variety of fascinators decorated with hand curled ostrich feathers and dyed coque feathers secured onto a natural straw base with comb attachment, and elbow length lacy gloves compliment any outfit.